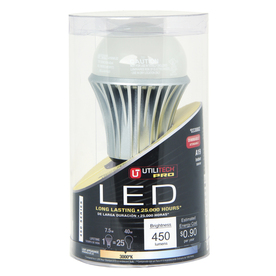 Lowe's has a 40-watt equivalent light bulb that uses light-emitting diode (LED technology).  Normally these bulbs run $20 or more, but Lowe's is offering this one for a few pennies short $10.   I bought a couple of them, and they are excellent!  The light is instantly on at full intensity and shines a little whiter than the orange-ish hue of a low powered incandescent.  These bulbs are so efficient that even after they've been energized for hours, you can touch the bulb and find it merely warm.  The bulb is very close to the standard light bulb size, so unlike many CFL bulbs it'll fit in the lamp shades and receptacles made for standard incandescent bulbs.
I've been hoping the price of LED technology would get more competitive, and it's finally doing that.  I've never been a fan of CFL bulbs because they aren't instant on; they die fast if switched off and on too often; they die even faster if installed head-down, and they poison your family with mercury if you break one.  Besides, green government blockheads have been trying to compel us to use them, which is a patriotic reason to avoid them.
Note: I have no business affiliation with Lowe's at all.  I'm just a customer.
otherbrothersteve@gmail.com